I asked the I Ching Oracle:
How can I go in to work tomorrow without hating everyone?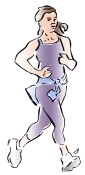 (present)
32. Heng - Constancy, Perserverance
Continue to the end because luck comes to the enduring who have faith in themselves.


(future)
48. Ching - The Well
Life is like a well. Poorly kept wells bring sickness. Maintain it properly and you will have satisfying water.
What does the Oracle hold for you?
http://luckyhonu.com/
Well
Well
Well
That's three holes in the ground.
Now you pretty much know everything I know about life is like a well.
I wonder, am I going to need a plumber?
Some chlorine maybe?
Algae eaters?
What?